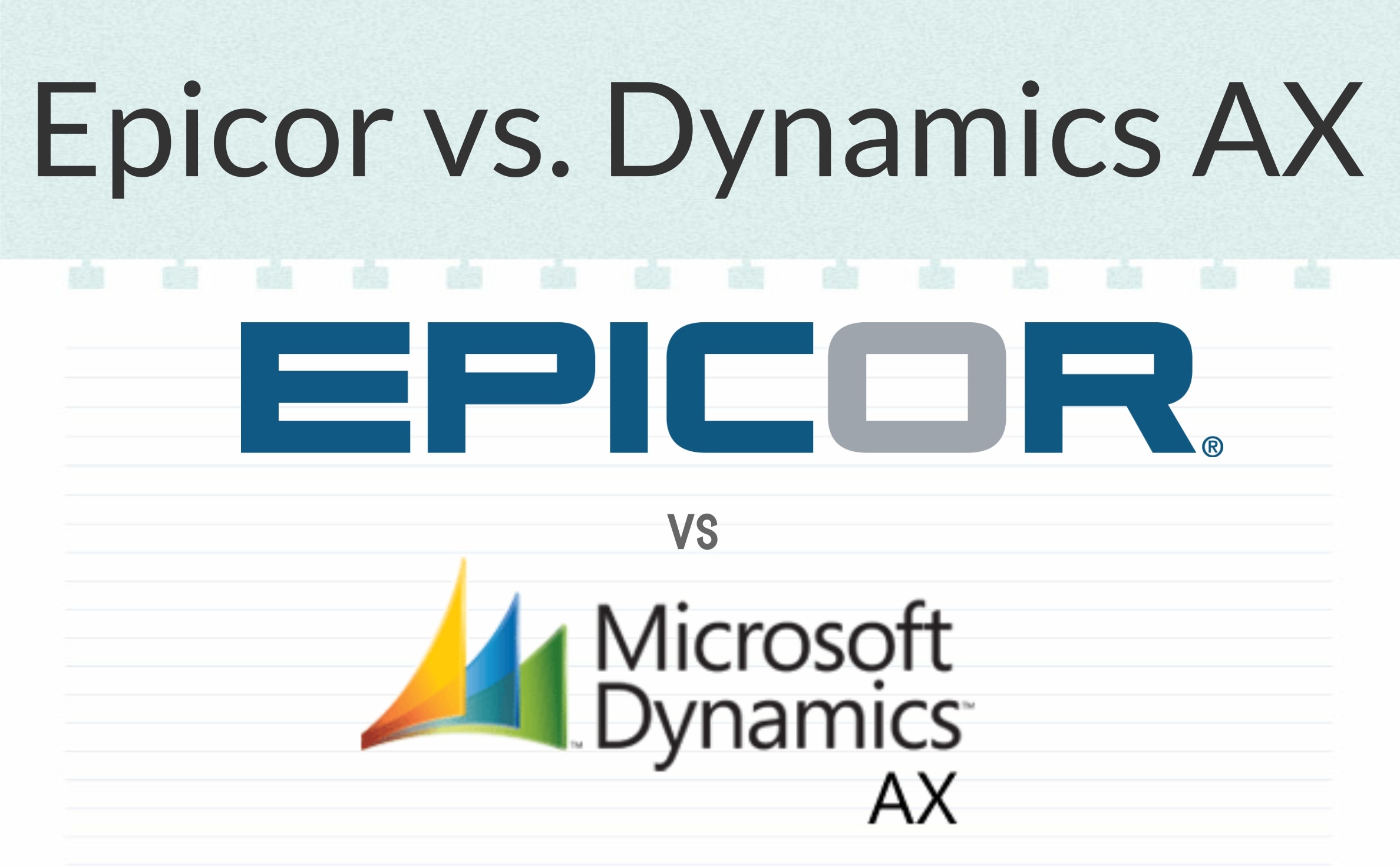 ---
Manufacturing and distribution businesses are at a critical juncture. Market demand and industry competition is driving a new wave of digital innovation. This means that many organizations are in the process of evaluating and improving their software investments; starting with their ERP system. This week, we look at Epicor vs Dynamics AX.

As a leading ERP consulting firm for the mid-market, we are often asked to compare Epicor vs Dynamics AX ERP systems. Today we will be looking at Epicor 10 and Microsoft Dynamics AX 2015 specifically. Our recommendation is always to find the right tool for the right job — and with these systems —there are many things to consider. Remember, not even the most powerful software in the world is a "best fit" for every organization. In our comparison of Epicor vs Dynamics AX, we'll brief you on the more elementary facets of software selection, common issues that have been experienced, and what ultimately plays the biggest role in cost payback.
A priority attribute of an ERP solution to that of an investor, is its ability to serve as the foundation for a scale-able business model. Additionally, the buyer must ensure the vendor's latest version is configurable to maximize a process, not match the current one.
We open with this caveat because businesses in the midsection today are immensely complex; delving into platforms that enable themselves to provide an end to end solution so client matters are managed from a 360 degree view. Plus, internal users find the added investment a much more reliable resource when it comes down to altering a job or case internally. It is this on-demand trend that has transformed today's business process management initiative, thus differentiating the model and/or versions between vendors like Epicor and Microsoft.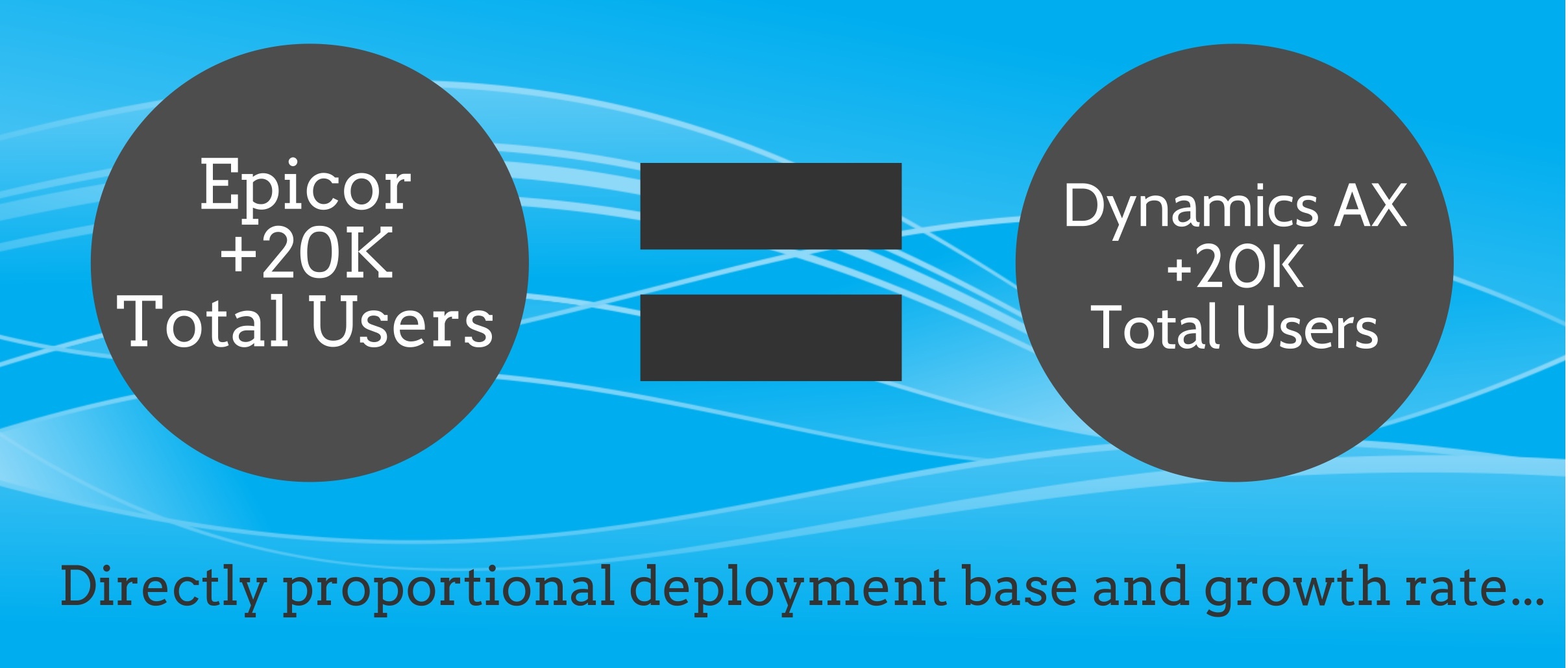 ---
Business Process Modeling – Epicor vs Dynamics AX
We've been trained to look for the "ease of use" phrase in vendor material, yet many times uncover no instance of how this occurs in the back end. (In general, investors aren't seeking the latter). The truth? The majority of ERP systems — particularly category leaders like Epicor and Dynamics AX — are not easy to use, easy to configure or manage. So just how does Epicor 10 and Dynamics AX stack up in this instance? Well, it truly depends on complexity of business process models and the sophistication of solutions you provide your customers.
You'll be hard-pressed to find a user whom does not exploit the power of Epicor 10's agile drill down components. The profound capabilities of Epicor 10 can be seen in an expert implementation; and truly backs the premise of their development schema. For example, if properly mapped, Epicor can alter a sales role into that of an engineer. One thing Epicor does better than anyone else is fuse functions of a system together most other ERP vendors view as separate entities. This allows processes to be carried out faster, with greater transparency, for client facing business users. But with efficient mapping comes complexity. Business process modeling in Epicor requires defined work process flows and expert analysis. Because the system is so flexible, conditions at each task within those BPMs must be expertly set up to make sure the system reflects the process in the right area of the system. It is often why Epicor can be attributed as complex and requires considerable time and focus during an implementation.
Dynamics AX is often attributed for being easy to use; yet is more than likely a general statement when we're talking in terms of a house-hold name like Microsoft. AX is one of four ERP systems Microsoft deploys. AX is often criticized for a lack of diversity in its functionality for economies of scale whom need it. The criticism comes on the heels of rapid change in the manufacturing and distribution sector. These complex business archetypes are increasingly under consideration for a mergers or acquisitions in order to provide an end to end service offering in a volatile market.
This means the presence of a midsection business is larger than ever in the past, and as such, captures a much more robust business model. Dynamics AX lacks proficiency when it comes to advanced BPM framing. Suites are fairly standard and are not based on per industry dynamics. General reviews suggests it takes many add-on components outside of AX to exploit the same dimensions of each suite's utilities as Epicor does out of the box.
It should also be noted, users often criticize Dynamics AX for being a rather laggard ERP system. This is more than likely the pitfall of its simplistic development requiring many alterations to bring a process to an optimum state. Moreover, since the version is from 2012, the system may not have the capacity to perform with the advanced features of modern applications the majority of businesses need to provide an end to end solution. However, Dynamics has announced details of its newest version Dynamics 'AX7' — a cloud based ERP — set to release sometime later this year. Epicor too, has since announced a cloud-first approach to their latest developments.
Cost Accounting – Epicor vs Dynamics AX
Both Epicor and AX are industry leaders when it comes to financial reporting. However, largely differ in accessibility to custom reports. Epicor enables users to view all costing schemes, resource allocation, complex journal vouchers and discounts all from a single quote – which many companies are finding most purposeful. As for Dynamics AX, that system does not. While it does capture some advanced time expense management posted directly to the G/L — among other general accounting features — it does not enable users to query potential costs for RFQs. This is an obvious issue once companies look to scale their capacity and move into new spaces. However, for a privately owned or standalone service provider, manufacturer or distributor, Dynamics AX can be an essential tool for simple work flows and standard account entity creation.
Looking at cost accounting through the Epicor vs Dynamics AX lens is not cut and dry, and greatly depends on your business.
Implementation Partner Network – Epicor vs Dynamics AX
Those whom opt to take on an ERP implementation project are encouraged to partner with a business solutions expert to see the project to its completion and thereafter. The partner network is an excellent way to invest in the software of an investor's choice – either AX or Epicor – and receive additional services or value that large vendors do not necessarily provide.
Yet, the majority of VARs work outside the partner network of the vendor which can result in poor practices throughout the implementation. Microsoft has the largest and most mature VAR and ISV channels in the enterprise software industry. According to industry insiders, even with thousands of ERP channel partners, less than 50 are certified with an industry badge; and an even smaller number service a methodology based on best practice approach or have the ability to move a business to the cloud.
As an Epicor Gold Partner, we have assisted companies reconfigure ERP systems where they've opted to look beyond the partner network at a lessor cost and quick turn around. However, when companies implement a system with this outsider approach, service contracts can become voided by the vendor as a result of certain modifications done to the ERP outside the provisions of the original developer. This results in the company taking full ownership of a faulted system.
Epicor services a global VAR network, however not at the skew of Microsoft. They place heavy emphasis on the training of their ERP system and allocate only the most highly reputable VAR partners to service their system. For instance, our certified Epicor consultants have gone through rigorous training to ensure the system is tailored to a business process through best practices. This allows the company to own a fully purposeful system and remain compliant with the vendor thereafter.
The Bottom Line
Where Dynamics AX often falls short for businesses with manufacturing and distribution components, Epicor has succeeded, spending much of their development hours on flexibility, financial reporting and vendor reputation—the three most pressing needs of today's modern workforce. Epicor vs Dynamics AX is a very formidable battle; as Dynamics AX does possess some strong capabilities for business that strictly manufacture products with little industry deviation. ERP selection always comes down to selecting the right tool for the right job. The information above should properly help you lay out which best fits your organization.
Investing in infrastructure is an emotional decision that should be considered by many in an organization. One of the best ways to mitigate these risks is to invest in having an expert assist you during selection and implementation. Datix has helped hundreds of businesses successfully navigate these projects. Contact one of our experts today to learn more about how we can help.